Each year, millions of tourists are drawn to Vietnam from the far corners of the world, their minds firmly fixed on seeing the legendary beauty of Halong Bay, a renowned UNESCO World Heritage Site, sitting in the Gulf of Tonkin.
What you may not know is that the Gulf of Tonkin is actually home to three bays, Halong Bay, Bai Tu Long Bay, and Lan Ha Bay. Geologically, they are all similar, with the famed dramatic landscape of karst formations and limestone cliffs.
For savvy visitors looking for a tranquil and off the beaten path cruise, Halong Bay surprisingly plays second fiddle to Lan Ha Bay.
Sister to superstar Halong, the quieter and more isolated Lan Ha Bay offers plenty in her own right, particularly in the form of white sandy beaches. Both bays are best explored via overnight cruises.
If you are deciding between the two, or looking to explore Lan Ha Bay, we are here to help!
Read on to find out why, arguably, Lan Ha Bay might be the best bay in the area to visit while doing a Halong Bay cruise.
Overview of Lan Ha Bay
Located south of Halong Bay, Lan Ha Bay is by far the smallest of the three primary bays in the area. It comprises around 400 limestone islets spread over 76 km2, and is just as pleasing to the eye as Halong Bay.
Lan Ha Bay features the same jaw-dropping landscape of towering karst outcrops that tourists typically associate with Ha Long and if it weren't for the conspicuous absence of crowds in Lan Ha Bay, you probably wouldn't be able to tell the difference between the two bays.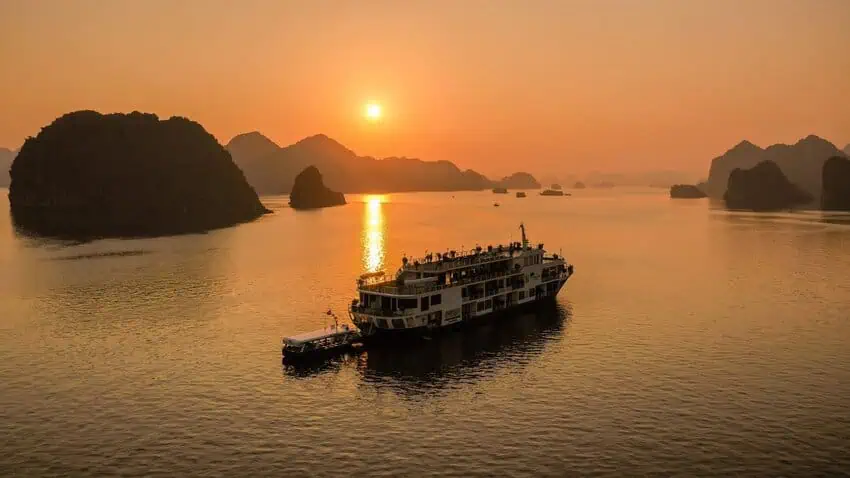 Because of its distance from Halong City and the main tourist wharf, the popularity of Lan Ha Bay never really took off as it did for Halong Bay in the 1990s, and Lan Ha has remained in the shadow of its celebrity neighbour ever since.
This is good news for you – Lan Ha Bay remains an untouched gem, with isolated areas, pristine waters, and caves to discover. Of course, it is most famed for its clean white beaches, a rarity in Halong.
With no less than 139 white sandy beaches in the bay, it doesn't take much effort to find your perfect spot for swimming, snorkeling and, for the more adventurous – cliff jumping!
Home to Cat Ba Island, the largest island in the area. Rugged, craggy, it showcases all the dramatic features of Halong. Many cruises start from Cat Ba, making it a great destination to start your trip. Enjoy the seafood market, the lovely beaches, and the national park.
Overall, if you are looking for a more secluded and laidback version of the area, Lan Ha Bay is ideal.
Is Lan Ha Bay in Halong Bay?
A deceptively difficult question, the answer really depends on how you choose to look at it. Yes and no at the same time!
In geological terms, Lan Ha Bay is part of the same sinking plateau as both Ha Long and Bai Tu Long Bay. As you sail around the area, you will be hard-pressed to notice any significant change in the scenery around you as you move from Ha Long Bay to Lan Ha Bay. That said, the 3 bays do have clearly delineated borders, and Lan Ha Bay actually sits in a different province.
For the sake of simplicity but also adding to the confusion, most travel guides and websites put some of the attractions of both Lan Ha and Bai Tu Long under one Halong Bay umbrella.
Should I Visit Lan Ha Bay or Halong Bay?
Make no mistake about it – both bays are absolute stunners, guaranteed to impress even the most seasoned travellers. In both Halong Bay and Lan Ha Bay you will be able to feast your eyes on some of the best views Mother Nature has to offer. She certainly took her time to create them; the landscape you'll see there took over 500 million years to form.
The choice you're looking at is of a different nature, it has more to do with your preferred style of travelling. If you are arriving on a tight schedule or a tight budget and need the most convenient, affordable cruise deal out there, then you are likely going to visit Halong Bay. You will have by far the greatest choice of deals and activities at your disposal. Of course, you will also get to enjoy the spectacular headline attractions of Halong Bay such as Ti Top Island or Sung Sot Cave.
Whereas, if you prefer a more off-the-beaten-road style of travel, or are looking for something quieter and focussed on nature, then Lan Ha Bay is probably much more in tune with your needs.
For more insight, take a look at our in-depth comparison of the three bays – Ha Long Bay, Lan Ha Bay and Bai Tu Long Bay.
8 Top Lan Ha Bay Activities and Attractions
For lovers of wildlife, the marine waters of Lan Ha Bay offer outstanding diving and snorkeling opportunities. There are hundreds of species of fish, molluscs and arthropods, as well as some of Asia's rarest types of coral. If you are lucky, you might even catch sight of a couple of seals or dolphins while cruising on tourist boats!
There is much more to the bay than its marine life. You will find that there are numerous fun activities to do, read on for our top 8 in and around Lan Ha Bay, Vietnam:
1. Sea Kayaking
Explore the beauty of the bay up close and personal on your own little boat. Kayaking is one of the best ways to immerse yourself in nature, you'll have the chance to access places where tours won't be able to get to.
Many cruises on Halong Hub have kayaking on their itinerary. Otherwise, kayak rentals are easy to arrange at the waterside. Ba Trai Dao island, Tra Bau, and Ba Ham Lake are popular areas for this activity due to their sheltered nature and beautiful scenery.
2. Swimming Around White Sandy Beaches
Swimming at any one of the best Lan Ha Bay beaches is the perfect way to take advantage of the warm, tropical surroundings. There are 139 gorgeous beaches to choose from! The three best beaches are Ban Chan Beach, Ba Trai Dao Beach and Tiptop Beach.
Insider tip: Do not know which one to choose? Check out https://www.halonghub.com/blog/most-beautiful-halong-bay-beaches/ for more information.
3. Explore Cat Ba Island
It is well worth your time to spend a day or two on Cat Ba Island.
Visit the Cat Ba National Park, a UNESCO world biosphere reserve, to see lush forests hiding civet cats, deer, hornbills, and more.
If you make your way to the southeast coast of Cat Ba Island, you'll find a fully-equipped rock climbing centre where you can enjoy a full or half-day of climbing; The island is also wonderful to explore on a bicycle.
End your day with Bia hoi at the draught beer stalls that line the harbour.
4. Visit a Floating Fishing Village
Rich in history, Halong Bay was a busy seaport in the 12th century, and thus home to many floating fishes villages.
Make a stop at the nearby Cai Beo floating village to gain some knowledge about Lan Ha Bay's deep-rooted culture and traditions. Fishing the waters of the deep sea bay and navigating around its limestone mountains have long been a way of life for the locals.
5. Chase Sunsets
Wind down your peaceful day with a view of the sun setting over the undulating limestone crops of the bay.
Head over to Ba Trai Dao or the Three Peaches Islets for the best sunset in the area. The islets are three small limestone formations that look like peaches when seen from afar, with a unique bow shaped beach.
6. Snorkel About
Lan Ha Bay has about 400 islets and limestone karst formations. Lose yourself in the amazing under water world with a snorkelling experience.
Enjoy the myriad of marine life and be awed by the coral reefs. With waters more pristine and less polluted than Halong Bay, snorkelling here is such a treat.
Turtle Island, Monkey Island, and Nam Cat Island are two of the best spots, where calm waters and sea life awaits you!
7. Explore Caves
Lan Ha Bay is not only famous for its karst mountains but also for its caves. The caves here are out of this world! They have amazing rock formations, jaw-dropping stalagmites and stalactites. Two of the best Lan Ha Bay caves are Dark and Bright Caves and also Trung Trang Cave.
8. Island Hopping
Soft, sandy beaches, jagged limestone cliffs, and hiking opportunities abound on the countless islands of the bay.
The best way to enjoy the various islands is by visiting several of them – 1 da
With almost 300 islets around the bay, 1 day is never enough! If you do not know which islands are the best, book Halong Bay cruises for an easy and more comfortable trip.
Lan Ha Bay's diversity is what makes it so special. No matter what kind of traveler you are, you're bound to find something you love: kayaking, swimming, diving, trekking, rock climbing, cycling, beach volleyball, football – and so much more!
Read on for more activities to do in the area!
How to Get to Lan Ha Bay
Lan Ha Bay is a bit more secluded than Halong Bay, but this is not to say that it's much more difficult to reach. As a matter of fact, you have a range of convenient, hassle-free options at your disposal.
How to Get to Lan Ha Bay from Hanoi
The most common starting point for trips to Lan Ha Bay is from Hanoi, the capital of Vietnam approximately 134 km from Hanoi.
Another increasingly popular base is the port city of Hai Phong. From Got Pier in Hai Phong, you can easily connect to Cat Ba Island, which is the gateway to Lan Ha Bay.
Travel time from Hanoi to Hai Phong (Got Pier) is around 2 hours, and your options include a shuttle bus or a private car and limousine. This makes Lan Hay Bay possible for a day trip.
An alternative access point is through Halong City and its Tuan Chau Island. Rather than get to Lan Ha through Cat Ba Island, in that scenario you will arrive at the destination by cruising through Halong Bay first.
Noi Bai Airport in Hanoi is the second biggest transportation hub in Vietnam, and it is also the most popular choice for Ha Long visitors, offering convenient transport to Hanoi city centre and to the Halong Bay area.
How to Get to Lan Ha Bay from Cat Bi Airport
Your second option is to fly straight to the airport in Hai Phong, the Cat Bi International Airport. There are direct flights from Ho Chi Minh City to Hai Phong daily. The city is located 60 km from Halong Bay. From Cat Bi, you can take a taxi or private car to Got Pier. Travel time is around 40 minutes.
Transportation to Lan Ha Bay – At a Glance
Embarkation point: Got Ferry Terminal (HaiPhong)
From Hanoi city center: 153 km – bus / car (2h)
From Noi Bai airport: 150 km – bus / car (2h30′)
From Cat Bi airport: 28 km – car / taxi (40′)
Looking for more detailed information on reaching the destination in an efficient way? Take a look at our post on transportation to the 3 bays, as well as our breakdown of the 3 airports in the vicinity of Halong Bay.
Your Options for a Lan Ha Bay Tour from Hanoi
If you're sold on the idea of visiting Lan Ha Bay from Hanoi, your options for a tour of the bay are as follows:
Travel to Cat Ba Island via Got Pier on your own; a great choice for independent adventure-seekers, but you'll have to arrange everything by yourself.
Go on a one-day cruise, back in Hanoi the same day; your operator will organize a boat trip, and you'll get to see Lan Ha's stunning scenery, but the trip will feel rushed.
Join an overnight cruise, or even better – a 3 days & 2 nights cruise; hassle-free package tours that give the best opportunities to really get to know the place. There are many companies, such as Serenity Cruises, Sapphire Cruises and Perla Dawn Sails, that offer overnight cruises from Hanoi for those who want to travel hassle-free.
3 Best Lan Ha Bay Cruises
With so many Ha Long cruises available in the market, and the actual quality of service varying wildly among them, you may find it's quite a challenge to choose the best cruises.
We've done the legwork for you! These hand-picked Lan Ha Bay cruises guarantee nothing but the best experience of the glorious Lan Ha Bay.
Experience luxury and comfort that will make your experience more unforgettable in Lan Ha Bay's best cruises. Most cruise lines offer a cooking class or an early morning Tai Chi lesson on top of their decks too.
1. Mon Cheri Lan Ha Bay Cruise
The Mon Chéri Cruise is simply one of the best luxury cruises in Northern Vietnam. Come onboard for an unforgettable experience in Halong and Lan Ha Bay.
The dark wood and rich malbec hues give Mon Cherie an air of prestige, while still feeling warm and homely thanks to the plush upholstery and soft lighting. Large panoramic windows stretch across the walls of every room, meaning guests can enjoy the spectacular passing scenery from anywhere in this luxury cruise.
Choose from a wide selection of spacious cabins, each complete with its own private balcony from which to enjoy your morning coffee, your evening glass of wine, and everything in between. It has a capacity of 50 people and the best part is it sails from Hai Phong which reduces the travel time on land to 1.5 hours which means more time to enjoy the bay.
2. Stellar Of The Seas Cruise Lan Ha Bay
Stellar of the Seas Cruise Lan Ha Bay
Book Now
Visit Lan Ha Bay with sophistication! The Stellar Of The Seas Cruise promises a delectable mix of luxury services and a fascinating travel itinerary.
Offering VIP amenities such as a gym, a swimming pool, a library, and 24-hour room service with no extra charges, this 5-star luxury cruise is guaranteed to provide you with memories that you will cherish for a lifetime.
Other than the ship itself, during the trip you will also have a chance to enjoy a range of exciting activities – both offboard and onboard, such as taking part in a cooking class of Vietnamese cuisine and joining a Tai Chi class at sunrise!
Whether you're discovering hidden caves, kayaking between karst limestone outcrops to exclusive lagoons, or simply relaxing on the balcony of your private suite, the Stellar Of The Seas Cruise is perfect for adventure seekers who value quality and style.
3. Orchid Cruise
Orchid Classic Cruise Lan Ha Bay
Book Now
Orchid Cruise is an aesthetically pleasing ship appointed with care and class. The Asian-Vietnamese design is accorded colonial French accents. The ancient flair of Indochina emanates throughout the vessel.
From the varnished wood floors to the billowing sails on the top deck, the Orchid Cruise ship is as stunning as the limestone karsts passing by.
If you are looking into a more intimate and health and wellness-focused cruise, Orchid Cruise is the right choice for you. One of the newest Lan Ha Bay cruises, their cruise boats have only 14 luxury cabins, all spacious and flooded with natural light.
Each room is also equipped with a private balcony & air conditioning – perfect for families or for those wanting maximum comfort and class in Halong's most VIP bay.
So How Much Does a Lan Ha Bay Cruise Cost?
Prices start from roughly 100-200 USD per person, depending on the type of cabin you choose. For more detail and to book directly through our site, navigate to our complete list of Lan Ha Bay Cruises.
Lan Ha Bay in the Eyes of Travel Bloggers
Lan Ha Bay is truly great, and as soon as you get to places like Cat Ba Island or Viet Hai village you'll better understand the timeless appeal of the place. But don't just take our word for it! Before you make the final call – and possibly choose Lan Ha over the world-famous Halong Bay, read what experienced travelers thought of it first!
Before we discovered Lan Ha Bay, we did a very nice trek in the gorgeous Cat Ba national park. We hiked 18kms up to the highest point on the highland. From up there we had a gorgeous view over the whole island and of course the incredible hills around. At the end of the hike through the island, we took a boat and came back to the village crossing a beautiful section of Lan Ha Bay… Definitely a big highlight of our 7 weeks in Vietnam.
Fabienne and Benoit from Novo-monde
The sense of adventure was amazing. From rock climbing and hiking to kayaking and swimming with bio-luminescent plankton, Lan Ha Bay was constantly offering something special. I chose a 3-day/2-night adventure package around different places of Lan Ha Bay and Cat Ba Island. Lan Ha Bay is one of my favorite experiences in all of Vietnam and I would definitely choose the route again!
Ben McLaughlan from Horizon Unknown
What I loved the most about it was the diversity. While of course there were stunning landscape views, there were also bike paths, hiking, caves and various islands to explore. The sunrises by the fishing village were also one of my favorite parts about staying on Lan Ha Bay. Lan Ha Bay was a lot more quiet, and less boats in the water in that area. I loved exploring the Cat Ba National Park and taking in all the views of the bay. It was a highlight of our month in Vietnam!
Kelsey Converse from the Tiny Traveler Blog
The hour we spent paddling kayaks in a cove of Lan Ha Bay was one of the most peaceful and memorable parts of our holiday in Vietnam. Our small group of kayaks were the only boats in the cove and the only sound we could hear were the oars dipping in and out of the water and the birds and monkeys calling from the trees in the mountains around us.
We chose to go on a Peony Cruise, one night, two day cruise. This experience was always going to be a bucket list part of our holiday to Vietnam so we thought it was worth paying more for a more exclusive experience. It was definitely worth it.
Clare Thomson from Suitcases and Sandcastles
Hop On Board!
Long story short – Lan Ha Bay is well worth your time and money, so if it sounds like your type of thing, don't think twice about it. Make sure to get on a cruise boat and enjoy Lan Ha Bay Vietnam. Choose from among these Lan Ha Bay cruises, grab a cocktail and get ready for some real fun!